Monday night, Robb and I did something we haven't done in a long, long time. No, not that. We went to a bar after eleven PM. Normally, Robb would be getting ready to go to bed around midnight (I usually don't go to bed until about one or two AM). But at midnight on Monday night, we were sitting on the outdoor patio at Georgie's Alibi drinking
margaritas
. They weren't very good, but they were considerably less than I remember paying for drinks in the good ole days. It was nice to be out and about for a change, but we didn't get to bed until about three AM and I really felt it on Tuesday.
Friday afternoon, Geoff invited a bunch of us to his place to watch the
Royal Wedding
of Kate and William. I could not care less about the Royal Family and their affairs, but I loved being able to see the beautiful buildings both inside and out, not to mention the beautiful carriages after the wedding. Also, the champagne we drank didn't hurt at all. Of course, that was three days ago, so now Geoff is not speaking to me
again
because I agreed with something he said. I think I'm pretty much done with him this time, it takes too much effort to befriend him; you just never know what's going to set him off.
Saturday night, we had dinner again at the
HiLife Cafe
. I had the Pasta Purses, "delicate purses stuffed with creamy goat cheese and roast hazelnut in a mushroom Madeira wine sauce with a hint of Brie cheese". The HiLife now features "half-portions" for people like me who cannot eat the huge mounds of food served in restaurants. I considered getting the half-portion of the Pasta Pockets, but changed my mind. It's a good thing I did because what I was served would have equaled a half-portion in any other restaurant. Robb had the Blueberry Hill, "Grilled NY Strip Steak served with our homemade Mashed Potatoes and Smoked Blueberry Sauce topped with Bacon dressed Arugula Salad."
I saw this headline today: Medicare's Math Problem: Taxes - Benefits = Trouble. The REAL problem with the Medicare program is the incompetent people running it and the amount of money stolen from it (and Social Security) to support other favorite programs of the Washington politicians.
NEW YORK (AP) - Apple denied that the
iPhone
has a privacy problem Wednesday - and then promised to fix it. It took the technology giant a week to respond to a brouhaha over how the devices log their owners' movements. So, tell me, how do you fix a problem that doesn't exist? Will Apple lovers ever get it? This is what Apple claims
cannot be done
.
Bad Choice Logo of the Week: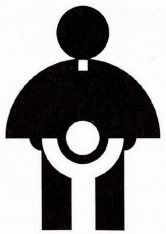 À bientôt, mes amis.